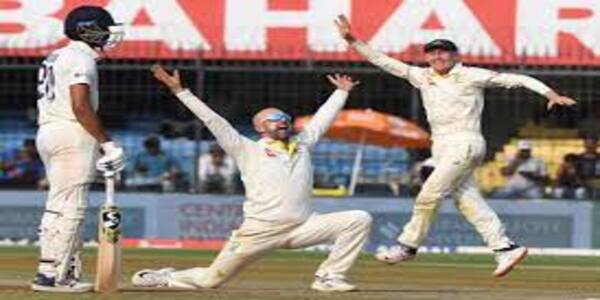 The game of the second day of the ongoing third Test match in Indore is over. Australia all out India for 163 runs in the second innings on the basis of Nathan Lyon's
magical
bowling. With this, Australia will now have to score only 76 runs to win. With the end of the Indian innings, the day's play also ended on Thursday. Hero of the day Leone took 8 wickets and bettered his record against India. Cheteshwar Pujara played the highest innings of 59 runs for India. This is Pujara's 35th half-century in Test cricket. Earlier, Australia's first innings ended on 197 runs and they had an 88-run lead over India. India is looking in
trouble
in this match after winning its first two tests. In the third day's play, now the entire power rests on the Indian bowlers.
इंदौर में जारी तीसरे टेस्ट मैच के दूसरे दिन का खेल खत्म हो चुका है. ऑस्ट्रेलिया ने नाथन लियोन की
जादुई
गेंदबाजी के दम पर भारत को दूसरी पारी में 163 रन पर ऑलआउट कर दिया. इसी के साथ ऑस्ट्रेलिया को अब जीत के लिए सिर्फ 76 रन बनाने होंगे. भारतीय पारी के अंत के साथ गुरुवार को दिन का खेल भी समाप्त कर दिया गया. दिन के हीरो लियोन ने 8 विकेट चटकाए और भारत के खिलाफ अपने रिकॉर्ड बेहतर किया. भारत के लिए चेतेश्वर पुजारा ने सबसे ज्यादा 59 रनों की पारी खेली. टेस्ट क्रिकेट में यह पुजारा का 35वां अर्धशतक है. इससे पहले, ऑस्ट्रेलिया की पहली पारी 197 रनों पर खत्म हुई थी और उन्होंने भारत पर 88 रनों की बढ़त बनाई थी. भारत अपने पहले दो टेस्ट जीतकर इस मैच में
मुश्किल
में नजर आ रहा है. तीसरे दिन के खेल में अब पूरा दारोमदार भारतीय गेंदबाजों पर टिका हुआ है.
Key Learnings
Definition: possessing or using or characteristic of or appropriate to supernatural powers
Synonyms: extraordinary, fascinating
Antonym: dull, boring

Definition: an effort that is inconvenient
Synonyms: anxiety, concern
Antonym: order, peace