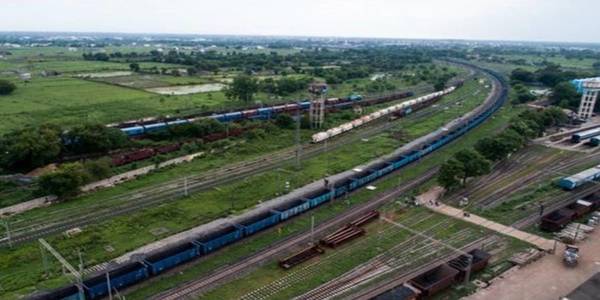 Indian Railways' South Central Railway(SCR) zone for the first time clubbed together three goods trains and operated them as a single long haul goods train. The
initiative
was taken to speed up the operation of goods trains so that the empty wagons can be transported to their loading point in the least possible time.
initiative
s like these help in meeting the demands of the customer
expeditiously
. For example, it helps in
expeditiously
meeting the demand of the power houses for Coal. This in turn also helps in reducing the wagon turnaround time so that the empty wagons are available within a shorter time frame for each loading journey.In addition clubbing of three trains into a single train reduces the manpower need, so that they can be utilised for other train operations when there is heavy movement of trains. Operation of three trains as a single train also saves the precious path for operating other trains in the section.
भारतीय रेलवे के दक्षिण मध्य रेलवे (एससीआर) ज़ोन ने
पहल
ी बार तीन मालगाड़ियों को एक साथ जोड़ा और उन्हें एक लंबी दौड़ वाली मालगाड़ी के रूप में संचालित किया। मालगाड़ियों के संचालन में तेजी लाने के लिए
पहल
की गई ताकि खाली वैगनों को उनके लोडिंग पॉइंट तक कम से कम समय में पहुँचाया जा सके। इस तरह की
पहल
से ग्राहक की मांगों को तेजी से पूरा करने में मदद मिलती है। उदाहरण के लिए, यह कोयले के लिए बिजली घरों की मांग को तेजी से पूरा करने में मदद करता है। यह बदले में वैगन टर्नअराउंड समय को कम करने में भी मदद करता है ताकि प्रत्येक लोडिंग यात्रा के लिए खाली वैगन कम समय सीमा के भीतर उपलब्ध हो। अन्य ट्रेन संचालन जब ट्रेनों की भारी आवाजाही होती है। एक ही ट्रेन के रूप में तीन ट्रेनों के संचालन से सेक्शन में अन्य ट्रेनों के संचालन के लिए कीमती रास्ता भी बच जाता है।
Key Learnings
Definition: with efficiency; in an efficient manner
Synonyms: speedy, swift, quick
Antonym: unresponsive, crawling, creeping

Definition: the first of a series of actions
Synonyms: enterprise, inventiveness, resourcefulness
Antonym: inactivity, inertia, passivity