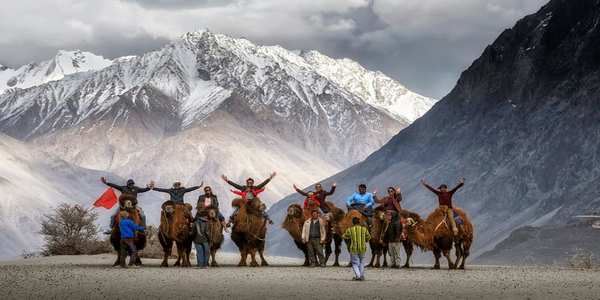 Indian Railways subsidiary IRCTC has launched a special Leh-Ladakh tour package covering all the main attractions in 7 days and 6 nights. The package includes both well-appointed hotel rooms and tented hotel accommodations.
A buffet is provided to all passengers and sightseeing is done in non-ac vehicles, IRCTC added.As per the IRCTC Tourism, there is one oxygen cylinder per vehicle and a
cultural
guide for Leh packages as well. The IRCTC said that all necessary permits,
entrance
fee for monuments, travel insurance, and GST is included in the trip.
भारतीय रेलवे की सहायक कंपनी आईआरसीटीसी ने 7 दिनों और 6 रातों में सभी मुख्य आकर्षणों को कवर करते हुए एक विशेष लेह-लद्दाख टूर पैकेज लॉन्च किया है। पैकेज में अच्छी तरह से नियुक्त होटल के कमरे और टेंटेड होटल आवास दोनों शामिल हैं। आईआरसीटीसी ने कहा कि सभी यात्रियों को बुफे प्रदान किया जाता है और गैर-एसी वाहनों में दर्शनीय स्थलों की यात्रा की जाती है। आईआरसीटीसी पर्यटन के अनुसार, प्रति वाहन एक ऑक्सीजन सिलेंडर और लेह पैकेज के लिए एक
सांस्कृतिक
गाइड भी है। आईआरसीटीसी ने कहा कि यात्रा में सभी आवश्यक परमिट, स्मारकों के लिए
प्रवेश
शुल्क, यात्रा बीमा और जीएसटी शामिल है।
Key Learnings
Definition: of or relating to the arts and manners that a group favors
Synonyms: ethnic, ethnical
Antonym: crudeness, impoliteness, inelegance

Definition: something that provides access (to get in or get out)
Synonyms: entry, incoming, ingress
Antonym: exit, departure