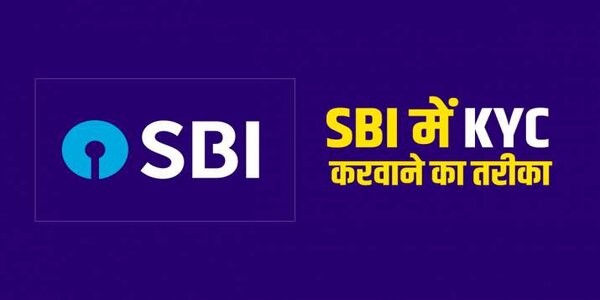 Amid the second wave of Covid-19, State Bank of India (SBI) has decided to let its customers update their KYC (Know Your Custoner) details from the comfort and safety of their homes. SBI has taken the decision in view of the lockdowns introduced by many states to break the chain of Covid-19 infections.
"Important
announcement
for our customers in view of the lockdowns in place in various states," country's top lender tweeted along with the
announcement
.
If you are an SBI customer than you can now update your KYC details and send it to the bank via email or through the postal service.
"In view of difficulties faced by customers due to local lockdown induced by the second wave of COVID-19, State Bank of India (SBI) has decided to
permit
acceptance of documents for KYC updation through mail or post. Customers will not be required to visit the branch for the purpose of KYC updation.
कोविड-19 की दूसरी लहर के बीच, भारतीय स्टेट बैंक (एसबीआई) ने अपने ग्राहकों की सुरक्षा को देखते हुए अपने घरों से केवाईसी (Know Your Customer) विवरण अपडेट करने का फैसला किया है। एसबीआई (SBI)ने यह फैसला कई राज्यों द्वारा कोविड-19 संक्रमणों की चेन तोड़ने के लिए शुरू किए गए लॉकडाउन को देखते हुए लिया है।देश के शीर्ष ऋणदाता ने
घोषणा
के साथ ट्वीट किया, "विभिन्न राज्यों में लॉकडाउन को देखते हुए हमारे ग्राहकों के लिए महत्वपूर्ण
घोषणा
" ।यदि आप एसबीआई (SBI)के ग्राहक हैं तो अब आप अपने केवाईसी (KYC ) विवरण को अपडेट कर सकते हैं और ईमेल के माध्यम से या डाक सेवा के माध्यम से दस्तावेजों को बैंक को भेज सकते हैं।"COVID-19 की दूसरी लहर के मद्देनज़र स्थानीय लॉकडाउन के कारण ग्राहकों को आने वाली कठिनाइयों को देखते हुए, भारतीय स्टेट बैंक (एसबीआई) ने मेल या पोस्ट के माध्यम से केवाईसी अपडेशन के लिए दस्तावेजों की स्वीकृति की
अनुमति
देने का फैसला किया है ।केवाईसी (KYC ) अपडेशन के लिए ग्राहकों को शाखा में जाने की जरूरत नहीं होगी।
Key Learnings
Definition: a formal public statement
Synonyms: annunciation, declaration, proclamation
Antonym: secret, concealment, suppression

Definition: the act of giving a formal (usually written) authorization
Synonyms: license, permission
Antonym: ban, forbid, prohibit