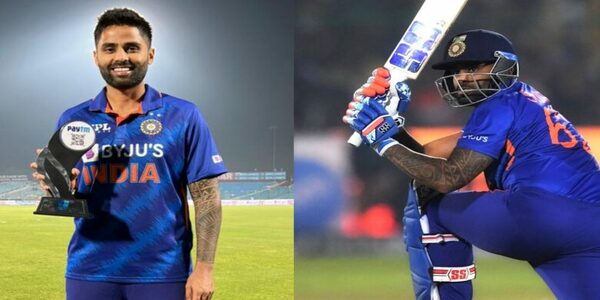 In the second T20, Suryakumar Yadav rocked by scoring a century off 49 balls. This is Surya's second century in T20 International.
apart
from his century
innings
, this batsman has made a special record in his name. Surya has left behind Yuvraj Singh in the list of most sixes in T20 International. Yuvi had hit 74 sixes in his T20 International career. At the same time, now Surya's name has become 79 sixes. This time Rohit Sharma has the record of hitting the most sixes in T20 International. Rohit has so far hit a total of 182 sixes in T20 Internationals.
दूसरे टी-20 में सूर्यकुमार यादव (Suryakumar yadav) ने कमाल करते हुए 49 गेंद पर शतक लगाते हुए धमाल मचा दिया. सूर्या का यह टी-20 इंटरनेशनल में दूसरा शतक है. अपने शतकीय
पारी
के
अलावा
इस बल्लेबाज ने एक खास रिकॉर्ड अपने नाम कर लिया. सूर्या ने टी-20 इंटरनेशनल में सबसे ज्यादा छक्का लगाने के लिस्ट में युवराज सिंह को पीछे छोड़ दिया है. युवी ने अपने टी-20 इंटरनेशनल करियर में 74 छक्के लगाए थे. वहीं, अब सूर्या के नाम 79 छक्के हो गए हैं. इस समय रोहित शर्मा के नाम टी-20 इंटरनेशनल में सबसे ज्यादा छक्का लगाने का रिकॉर्ड है. रोहित ने अबतक टी-20 इंटरनेशनल में कुल 182 छक्के लगाए हैं.
Key Learnings
Definition: one from the other
Synonyms: aside, afar, alone
Antonym: joint, connected, integrated

Definition: the batting turn of a cricket player or team
Synonyms: round,shot, stint
Antonym: cessation, idleness, inaction