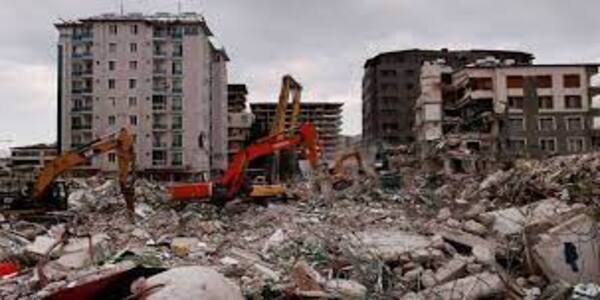 Turkey alone has suffered a loss of more than $100 billion due to the
devastating
earthquake in Turkey and Syria last month. The United Nations gave this information on Tuesday. "It is already clear that in Turkey itself, more than $100 billion has been lost," Louis Vinton of the United Nations Development Program (UNDP) told reporters via video link from Gaziantep in Turkey. There was a 7.8 magnitude earthquake on February 6 in Turkey and Syria. After this, aftershocks were felt several times. Earthquake has killed more than 45000 people in Turkey. While 5000 people have lost their lives in the neighboring country Syria. The World Bank last week estimated that the
devastating
earthquake caused more than $34 billion in damage to Turkey. However, Louis Vinton of the UNDP said that the Turkish government, with
support
from the UNDP, the World Bank and the European Union, had estimated much higher losses.
पिछले महीने तुर्की और सीरिया में आए
विनाशकारी
भूकंप (Turkey Earthquake) से अकेले तुर्की को 100 अरब डॉलर से अधिक का नुकसान हुआ है. संयुक्त राष्ट्र (United Nations) ने मंगलवार को इसकी जानकारी दी. संयुक्त राष्ट्र विकास कार्यक्रम (UNDP) की लुइस विंटन ने तुर्की में गजियांटेप से वीडियो लिंक के माध्यम से संवाददाताओं से कहा, "यह पहले से ही स्पष्ट है कि तुर्की में ही 100 अरब डॉलर से अधिक का नुकसान हुआ है." तुर्की और सीरिया में 6 फरवरी को 7.8 तीव्रता का भूकंप आया था. इसके बाद कई बार आफ्टरशॉक महसूस किए गए थे. भूकंप से तुर्की में 45000 से अधिक लोगों की मौत हो गई है. जबकि पड़ोसी देश सीरिया में 5000 लोगों की जान गई है. विश्व बैंक ने पिछले हफ्ते अनुमान लगाया था कि
विनाशकारी
भूकंप से तुर्की में 34 अरब डॉलर से अधिक का नुकसान हुआ है. हालांकि, यूएनडीपी की लुइस विंटन ने कहा कि यूएनडीपी, विश्व बैंक और यूरोपीय संघ के
समर्थन
से तुर्की सरकार ने कहीं अधिक नुकसान का अनुमान लगाया था.
Key Learnings
Definition: wreaking or capable of wreaking complete destruction
Synonyms: destructive, ruinous
Antonym: mild, bland

Definition: the act of bearing the weight of or strengthening
Synonyms: assistance, help
Antonym: contradict, undermine