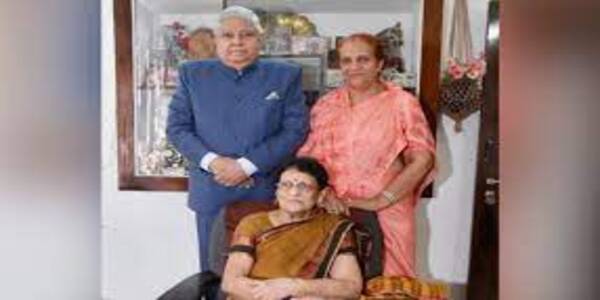 Vice President Jagdeep Dhankhar met his school teacher on Monday. During this, the Vice President's wife was also with him. Vice President Jagdeep Dhankhar had reached Panniyanur village in Kannur district of Kerala to meet his school teacher Ratna Nair. Expressing her
happiness
seeing the Vice President at her home, Ratna Nair said that this is a true Gurudakshina for any teacher like me. He said that there can be no better Guru Dakshina for me than this. During this, the Vice President expressed his
gratitude
towards his teacher and said that whatever he has become in his life today has been possible only and only because of teachers like him. Ratna Nair and his family welcomed the Vice President with coconut water. Ratna ji also served homemade idli and banana chips to the Vice President. Though many of her other students hold high positions, mostly in the army and police, this is the first time that one of them has reached the second highest constitutional position in the country and for this Ms. Ratna ji owes a lot to her "Jagdeep". Proud. On the occasion of the meeting, the Speaker of the Kerala Legislative Assembly, Shri A.N. Shamseer was also present.
उपराष्ट्रपति जगदीप धनखड़ ने सोमवार को अपनी स्कूल टीचर से मुलाकात की. इस दौरान उपराष्ट्रपति की पत्नी भी उनके साथ थीं. उपराष्ट्रपति जगदीप धनखड़ अपनी स्कूल टीचर रत्ना नायर से मिलने के लिए केरल के कन्नूर जिले के पन्नियानुर गांव पहुंचे थे. उपराष्ट्रपति को अपने घर पर देखकर रत्ना नायर ने अपनी
खुशी
जाहिर करते हुए कहा कि ये मेरे जैसे किसी भी शिक्षक के लिए सच्ची गुरुदक्षिणा है. उन्होंने कहा कि मेरे लिए इससे बेहतर कोई गुरु दक्षिणा नहीं हो सकती है. इस दौरान उपराष्ट्रपति ने अपनी टीचर के प्रति
कृतज्ञता
व्यक्त करते हुए कहा कि आज वो अपने जीवन में जो कुछ भी बन पाए हैं वो सिर्फ और सिर्फ इन जैसे शिक्षकों की वजह से ही संभव हो पाया है. रत्ना नायर और उनके परिवार ने उपराष्ट्रपति का नारियल पानी से स्वागत किया. रत्ना जी ने उपराष्ट्रपति को खाने में घर की बनी इडली और केले के चिप्स भी परोसे. हालांकि, उनके कई अन्य छात्र उच्च पदों पर हैं, ज्यादातर सेना और पुलिस में हैं, ऐसा पहली बार हुआ है कि जब उनमें से एक देश में दूसरे सर्वोच्च संवैधानिक पद पर पहुंचा है और इसके लिए सुश्री रत्ना जी को अपने "जगदीप" पर बहुत गर्व है. इस मुलाकात के अवसर पर केरल विधान सभा के अध्यक्ष,श्री ए.एन. शमसीर भी उपस्थित रहे.
Key Learnings
Definition: a feeling of thankfulness and appreciation
Synonyms: acknowledgment, obligation
Antonym: ungrateful, thankless

Definition: emotions experienced when in a state of well-being
Synonyms: contentment, pleasure
Antonym: dissatisfaction,misery